Snaps Launches Chatbot With SAVEUR Magazine On Skype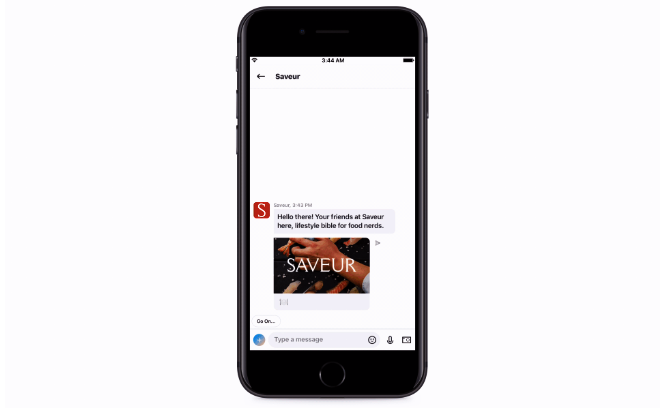 Last week, we were so thrilled to announce that we launched the SAVEUR bot on Skype!
Bonnier Corp. (publisher of SAVEUR) partnered with Snaps and Skype to launch the SAVEUR bot. Just in time for Thanksgiving, the SAVEUR bot lets users choose their own food adventure. Whether it's learning about the science of food or planning their Thanksgiving dinner, the bot helps curious cooks become better informed and less stressed in the kitchen by tapping into SAVEUR's vast recipe database. For the December holidays, users will be able to engage with the SAVEUR bot about making the perfect cakes, cookies, and desserts.
"We are excited to partner with Skype on Bonnier's first ever chatbot experience," said Sean Holzman, Chief Digital Revenue Officer, Bonnier Corp. "Media companies are trying to reach their audiences through multiple channels and we believe SAVEUR is the perfect brand to experiment with on this increasingly popular technology allowing us to engage directly with Skype's users."
"Readers are looking for ways to cut through the noise of social media, and the SAVEUR bot allows us to have two-way, interactive conversations with Skype users around the globe," said Adam Sachs, Editor in Chief of SAVEUR. "It's a fun and quirky way to connect with audiences old and new, allowing us to learn more about the interests of individual readers while bringing them advice and recipes from a trusted food brand with over twenty years of experience."
"The SAVEUR bot gives Skype users unprecedented access to thousands of recipes and cooking tips all in a conversational bot," said Steven Abrahams, Product Leader at Skype, Microsoft. "It was a joy working with the editors at SAVEUR to create a food personality specific for our global audience."
The bot is powered by us here at Snaps, the leading conversational marketing platform for top Fortune 500 consumer brands. "We're so thrilled to power the SAVEUR chat experience on Skype," said Christian Brucculeri, Snaps CEO. "Foodies will be now able to get totally personalized access to their favorite recipes and holiday content right in their favorite messaging app."
The SAVEUR bot is available on the Skype platform (mobile, desktop, or their web browser of choice). To add the bot and start chatting on Skype, click the + icon and search for SAVEUR under Find Bots. Add SAVEUR to your contacts and say hello to your newest cooking assistant. A web version of the bot will also be hosted on SAVEUR.